Workshops 2012

Photo Lab
Boris Kuznetsov, MS, BA
 In this workshop we will be going back in time to the 20th century to explore the basics of black and white photography and have fun shooting with real films and manual SLR cameras. We will play with lighting, exposures, and shutter speeds, focusing and zooms. Also we will briefly discuss the basics of photocomposition and balance. Afterwards, we will also get inside the darkroom and see the magic of the black and white picture developing.
We will learn all the basic skills of developing, fixing, and burnishing. Time permitting, we can also learn how to load/unload camera film, develop our own film rolls, as well as mix chemicals. It will be a lot of fun work with chemicals - be prepared!
---
Zome Constructions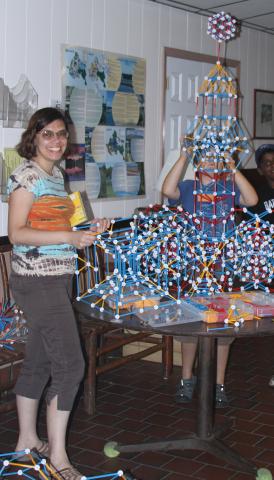 Elena Yakubovskaya PhD, SBU, Tatiana Portnaya PhD, LHS, SchoolNova math teachers
The purpose of the workshop is to explore geometry using a construction kit called Zometool. During the workshop, there will be a hands-on introduction to the Zome, which will involve smaller projects including cool prisms and various fascinating solids. The workshop will culminate with a "geometric bar-raising": the building of a giant structure called a mega-icosahedron.
---
Preparing a Butterfly Collection
Konstantin Khrapko, Assoc. Professor, Harvard Medical School
We will spread, identify and organize butterflies originating from the Rainforest butterfly farms. You walk away with your very own collection of butterflies!
---
Game Time!
Valya Barboy, student, Princeton University
Do you like playing games? Do you like winning? Turns out, there are a whole lot of games which you can always win, as long as you really know how to play. No luck, no chance, you win. Always. The trick if figuring out how to play correctly =) Nim is one of the simplest in this class of games, and the idea behind Nim is used to play many more complex games. In this workshop we're going to play Nim and find the strategy. It's Game Time!
---
Paper Fractals
Tatiana Yurchenko, M.Sc., SchoolNova teacher
This workshop is to touch fascinating world of fractals with our own hands. We will make famous fractal structures (Koch curve, Sierpinski triangle and others) in a form of whimsical pop-up cards that you can send to your friends, all the while discussing other fractal topics (what is the length of shoreline? where we can find fractals in nature?). It will be very hands-on and practical, everyone is welcome.
---
Microscopic Life
Vyacheslav Yurchenko, PhD, Assistant Professor, Life Science Research Center, University of Ostrava, Ostrava, Czech Republic
We are going to take a fascinating journey into the microworld. Equipped with a modern microscope, we will look at some live algae and protozoa species found in our neighborhood. Come and have a great time with us and the little critters living in your front lawn!
---
Vortex Theory
David Ananikian, Ph. D.
In this workshop we will create, observe and study vortex rings. A simple device called T-Box, will be used to create vortex rings from smoke. It is a friction force between the air and the smoke, which is responsible for a vortex formation. Observing two vertices collide, bounce off the inclined plane or passing through the diaphragms, we will explain and understand the outcomes.
---
In the Alchemist's Lab
Mark Lukin, Ph.D., Dept. of Pharmacology, SBU
Imagine you are a medieval alchemist. In other words, you are a person with zero knowledge of chemistry, who has some unknown compounds at his disposal. You know nothing about them, but you can experiment with them, make and record your observations, and draw conclusions. You will be provided with several mystery powders, liquids, and solutions and given the opportunity to experiment freely and try to figure out what they are.
---

Cells. How Are They Made?
Liubov Kurkova
This workshop is designed to illustrate the most important aspects of cell morphology in connection with cell functions. During our workshop we will discuss different types of cells: their shapes, sizes and structures. We will creating visual models of cells using natural wool and we will answer questions about the functions these cells perform. Additionally, the process of felting itself has a physical and chemical basis, which we are going to discover in this fun, hands-on activity!!
---
Building a Basic Sound Synthesizer
Alex Treyer, Graduate Student at Albert Einstein College of Medicine
From much of our favorite music, to the devices we use throughout the day, the work of electronic sound synthesizers has a continuous presence in our collective soundscape. There are many synth types out there, and the number of sounds they can produce is, technically, infinite. As part of our workshop, we will try to model a basic analog synth ourselves, and, in doing so – get an idea of what is necessary to convert electric current into a particular audible wave. There is potential for an award for the best 'UFO' noise dialed in by workshop participants.
---
The Art of Knot-tying

Sasha Abanov, PhD., Department of Physics and Astronomy, SBU
Tying knots and using knots for practical purposes is one of the most ancient inventions of humanity. People used knots well before they invented the wheel and learned how to start fires. However, these days most of us know only the simplest of knots and do not even suspect that there are more than a dozen ways to tie shoe laces. This workshop is going to be strictly practical. We will learn how to tie several extremely useful knots and we will talk about their use in our everyday lives life. We will have a lot of fun tying knots and finding tons of fascinating applications!
---
Problem? Design (it) Away!
Olga Gritsevsky, B.S. in Biomedical Engineering
Have you ever thought "I wish I had a device that could ---". That could do your homework for you? That would let you teleport? Or maybe clean your room for you? Well, wanting something could be a long way from actually having it (try asking your parents for that new Wii game!).
Especially if the thing you want doesn't even exist. But this is where innovation and design come in.
In this workshop, we will look at interesting design problems and find out how "I wish I had something that could ---" turns into a fully functional flying car or a genetically modified pet cockroach. We may also find that perhaps it is actually easier to do your own homework than to make a robot that does it for you...
---
Rockets and Propulsion
Boris Podobedov, Scientist, Brookhaven National Lab
This workshop is about building and flying rockets. Students will build and test rocket cars powered by an air balloon or a slingshot, as well as understand the physics of propulsion and rocket stability. They will also build and fly some paper rockets with and without fins. We will have a short competition for the most accurate rocket launch. Finally, we will use a very powerful rocket launcher, capable of shooting water rockets of different designs, that will help us reinforce the rocketry principles that we learned in the most entertaining way possible!!!
---
Robots
Cristina Mata, Daniil Lukin, seniors, Ward Melville High School.
The journey begins with harmless a LEGO contraption, but don't be fooled; its path lies among the dangerous, heavyweight, steel-aluminum killer machines that won't hesitate to devour your finger if you offer it to them. The only reason they haven't already taken over the world is that their brain belongs to us. During the workshop, their brain will belong to YOU; you will be able to get to know the language, which the robots understand, and tell them what to do. Come if you dare.
---
Silicate Gardens
Konstantin Khrapko, Assoc. Professor, Harvard Medical School
We will grow beautiful fractal tree-like structures from various colorful metal salt crystals and try to deduce the mechanisms responsible for the process. We will use microscopes with monitor to observe the crystal growth in detail. Every participant walks away with their own crystal garden.
---
What Color is My Hat?
Valya Barboy, student, Princeton University
Imagine that you're a prisoner. You and your fellow inmates are all given a hat. You know that everyone's hat is either blue or red. You need to determine the color of your hat. You cannot speak to one another after you are given the hats, but you are given time to conference beforehand. The rules are as follows:
- Not everyone has to answer, but if everyone remains silent you all die
- If anyone answers incorrectly, you all die
- If everyone who answers responds correctly, and all others remain silent, you all go free.
What is the tactic that gives you the maximal productivity of survival? How do you figure out what color hat you have? Exploring this game will give us some insight into basic cryptography, sending (and receiving) coded messages, and decoding messages that underwent minor corruptions during transmission.
---
Molecular Modelling
Mark Lukin, Ph.D., Dept. of Pharmacology, SBU
We are going to use state-of-the-art computer software to look at proteins, nuclear acids and other biological molecules. We will visualize and modify fine details of protein and DNA architecture to find atoms in DNA responsible for storage of genetic information and amino acids defining structure of the protein that DNA encodes.
---

Glass blowing
Mark Lukin, Ph.D., Dept. of Pharmacology, SBU
Glass makes a perfect container for most chemical substances, so chemists use a lot of glassware, sometimes of very exotic shape. This is why most experienced chemists are also glassmakers. During this workshop we will learn some basic glassblowing techniques.