Classes and Activities 2013
We had very full schedules in SigmaCamp! Below are some of the thing we did there:
Lectures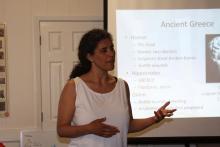 Every day right after breakfast you will go to a Lecture– an informal presentation by actively working specialists in different areas of science and math. You can  choose between 2 or 3 different lectures running simultaneously. Each day, you will be able to attend one lecture. We encourage you to attend lectures from each of the four disciplines – it might surprise you how tightly interconnected math, physics, chemistry, and biology are!
Semilabs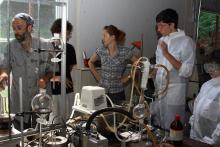 The main part of our academic program are the semilabs that combine theoretical (Seminar) and practical (Lab) parts in 90-minute session. Each semilab is a course, running for the five "regular" days of camp.  Last year, campers could only choose one semilab, but after the smashing success of semilabs and a lot of requests, we decided to give students more opportunities this year: you will choose 2 semilabs to attend. So this year you don't need to choose between "Chemistry of Photography" and "Codes and Ciphers" – sign up for both!
Outdoor fun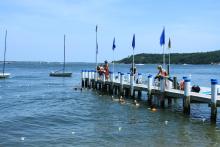 Of course, what summer camp could be complete without some outdoor fun? We had swimming and soccer, rock climbing and yoga classes, and, of course, everyones favorite -  the morning "rise and shine" exercises!
Workshops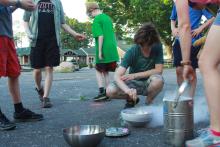 We want to encourage you to explore a great variety of science and math topics – those you were always interested in, and those you never knew existed. In our daily workshops, you will get a chance to grow your own "Silicate Gardens", learn the art of glass blowing, play math games with counselors, and launch your own rocket. Try a different workshop every day!
Junior instructor challenge and experiment of the day
As an experiment, this year we offered the campers a chance to share their knowledge with fellow campers. There were two ways of doing this: Junior instructor Challenge, in which the campers would lead some classes for younger children (not yet campers themselves), and Experiment of the day, in which campers would demonstrate some science experiment they really liked to the whole camp. Click on the links to read more about these programs.
Chess and Ping-Pong tournaments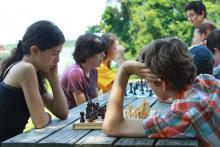 For true enthusiasts, we also had the ping-pong and chess tournaments running throughout the camp - whenever campers had a free minute.
Sigma Tournament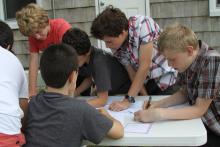 Sigma tournament was a team problem-solving tournament, featuring problems from Math and Physics, Biology and Linguistics. Read more about it on the SigmaTournament page
Evening clubs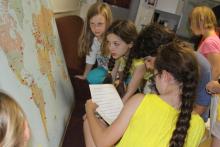 In the evenings, campers had a choice of evenign clubs, ranging from geography trivia game to poetry club. You could also play a quiet game of Settlers of Catan, join a dance lesson, or just watch a movie. Read more about it on the Evening Clubs page