Freedom of Speech: Q&A with Nadine Strossen
This Spring, Sigma Camp is starting a new feature: Q&A with Sigma Lecturers.
We have made recordings of some of the lectures given at SigmaCamp 2019. Now, for the first time, we are making these recordings available for those who missed it in August 2019! Moreover, the lecturers have agreed to hold a Questions and Answers session (over Zoom), so you can ask any questions or just talk to the lecturer!
Our first event of this series will be on Tuesday, April 28:
Freedom of Speech: Basic Principles and Current Controversies
by Nadine Strossen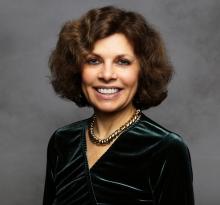 I will outline basic free speech principles (under international human rights law, as well as US law), including the speech rights of young people and students. We will then debate and discuss any current free speech controversies that students would like to consider, such as: What power (if any) should government have to regulate potentially dangerous, harmful speech, including "hate speech", speech promoting terrorism, or disinformation? What speech (if any) should social media companies bar? What limits (if any) should schools and colleges enforce to protect students' sense of equal dignity and inclusion?
About the lecturer:
New York Law School professor Nadine Strossen is a leading scholar, advocate, and frequent speaker/media commentator on constitutional law and civil liberties issues. The immediate past President of the American Civil Liberties Union (1991-2008), she serves on the national advisory boards of the ACLU, Electronic Privacy Information Center, FIRE (Foundation for Individual Rights in Education), and Heterodox Academy.
The National Law Journal has named Strossen one of Americas "100 Most Influential Lawyers". Her acclaimed 2018 book HATE: Why We Should Resist It with Free Speech, Not Censorship has been selected by both Washington University and Washburn University as their 2019 CommonRead.
How it Works
View lecture. The lecture is posted below; you can view it at any time before the Q&A session. Or, if you prefer, join us for the group viewing of the lecture by joining our Zoom meeting at 3pm on Tu, April 28
Submit questionsIf you have viewed the lecture in advance, think of the questions you would like to ask the lecturer. If you can, submit the questions in advance by using this google form; this will allow us to select the most interesting questions.
Join Q&A session. At 4pm EST on April 28, join our zoom meeting to ask questions or just chat with the lecturer. One of Sigma Camp faculty will act as the moderator.
Please note that this lecture is open for everyone; feel free to invite your friends!