About Sasha
This summer at Sigma, we are happy to announce that we will have an exciting art program twice daily, and will run during the Workshops/Arts/Games sessions!
The art program will comprise two different types of activities: 1) Discussion-style learning about art in its many forms, including art history, art styles, and much more. 2) Hands-on art classes, where campers create art of their own.
Introducing our 2020 Art Instructor, Sasha Kuznetsov!
Sasha is a Brooklyn-based artist who has lived in the New York City area since age one, when his family came to the US from St. Petersburg, Russia. Since graduating from the Cooper Union in 2013 with a degree in Fine Arts, he has continuously worked part-time as an art or art history teacher, and he has experience teaching students of all ages from 3 years old to adult. 
Alongside teaching art, Sasha has held various full-time jobs including being an Art Handler and Installer at a large auction house, being a designer at a firm specializing in awards and trophies, and even working as a lead pre-K teacher. Currently, he works as a graphic designer and event coordinator and has been moving into the world of User Experience (UX) Design.
Outside of work, Sasha is constantly trying to find ways to be creative and enjoys painting, drawing, making music, and designing games. He also gives museum tours at several NYC museums, primarily at the Metropolitan Museum of Art.
On why it's important to include art in a STEM-focused summer camp, Sasha says, "I am a strong believer in a well-rounded education, where sciences and the arts combine to provide for a higher level of knowledge and understanding of the world. The field of art has a lot to offer to anyone and learning more about it can help to widen one's horizons. And of course making art and being creative has been proven to relieve stress and anxiety – can't beat that!"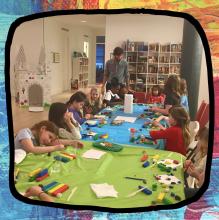 These reasons and more are why SigmaCamp has had an art studio since the very beginning, and we are excited for Sasha to continue the tradition!
At Sigma, Sasha plans to have two tracks running in parallel: one focusing on art projects with a little bit of art history thrown in, and one focused on art history with a drawing portion. Since the camp this year is virtual, instead of tying prompts to specific materials, he plans to give open-ended prompts so that the campers will be free to choose their own approach to the project using the materials they have on hand. Throughout the week Sasha will also be sharing ideas in art that have helped him personally develop as an artist.
We are excited to welcome Sasha onto our team this year and we think he will make everyone's experience in the virtual camp more interesting, enjoyable, and diversified.
Potential Art / Art History Topics at Virtual Sigma 2020
 Secrets of the Northern Renaissance: Symbolism in the paintings of the Dutch Masters.

Therianthropic (part animal - part human) portrayals throughout history. Where did it all go wrong?

Learning to "read" paintings. Viewing paintings as literature and rediscovering how we perceive visual art.

Structure and principles in art vs. imbuing art with feelings and the spiritual. A fun journey through modern art in an attempt to classify the world's leading artists and to see how various art movements influenced each other.

Malevich vs. Chagall: Erasing individuality vs. highlighting it.

The case for Cubism. Prioritizing geometric shapes, from Paul Cézanne to Pablo Picasso.

Japonisme and the dramatic influence Japanese woodblock prints had on Post-Impressionist artists.

Fascination of artists such as Pablo Picasso, Henri Matisse, Amadeo Modigliani and others with African and tribal art.

Dadaism and Surrealism. The art movements which challenged the world as we know it.

Russian Avant-Garde and Suprematism. Redefining art in a revolutionary way.

The case for Fauvism, the movement of early 20th century artists who placed bright colors and fierce brushstrokes above everything else.

Wassily Kandinsky, the pioneer of abstract art and the first one to bring music and art together in a painting.

Please note that since the art sessions will be held in an online format the focus will not be on the materials, but rather on the subjects at hand. So if you have nice art materials on hand that's great, but if not the following list of supplies will suffice:
pencils, colored pencils, scissors, glue stick and paper.