POM Lecture by Marin Beaupré
How Many People Can Our Planet Hold?: An exploration of population dynamics
by Marin Beaupré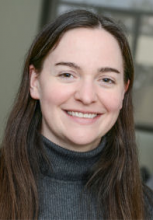 All populations of organisms grow when conditions are favorable, and start to level off or decline when the environment imposes limits on growth. Let's explore the internal and external factors that determine changes in population size. We'll discuss the basics of population growth, how different aspects of a species determine population growth patterns, and how population size depends on a number of factors at any given time. We'll learn about different strategies that species have evolved to maximize offspring survival and encourage population growth. Then, we'll apply this information to questions surrounding current issues in resource use, conservation, and human population growth. All of this growth is happening on a single planet with limited resources. Where will we go from here?
About the lecturer: Marin Beaupré is a Lecturer in the Department of Ecology and Evolution at Stony Brook University. She has taught various topics in biology, including ecology and evolution, at various colleges throughout her career. She absolutely adores teaching biology and finding creative ways to improve student learning. She received her Bachelor's degree in Biology from the University of Oregon, and her Ph.D. in Ecology and Evolutionary Biology from the University of California - Irvine. Her graduate work was in behavioral ecology, but she has also conducted research on improving undergraduate education in biology. She has published her work in CBE - Life Sciences Education, among other journals.
Event details:
October 8th, Friday, 6 PM EST 
Lecture recording can be accessed here.