Counselors 2020
Daniil Lukin
Graduate student, Stanford University
My PhD work is related to making nanoscale optical structures and manipulating quantum states of individuals atoms, with the goal of contributing to the world-wide effort on making optical quantum computers. When I go to Sigma, I like to bring with me various tech contraptions so we can take them apart. This year, we will breaking into a turbo-molecular vacuum pump. I also participate in teaching dance, teach physics-related workshops, and play classical guitar.
Andrey Lukin
Software Engineer
I have come to Sigma Camp as a student since the very beginning, and have felt how fun and interesting this camp truly is. I love to discuss and hypothesis different crazy ideas, something like constructing a large scale Stirling engine that would run from the equator and down to Antarctica, thus producing the much needed energy for the human race. I would love to listen to other people's amazing ideas, even if they are as unrealistic as mine. Outside of my studies, I love playing music, running, and sometime rock climbing!
Andrey Khesin
Graduate student, MIT
I have been at SigmaCamp since the very beginning. I will be starting my PhD in Math at MIT this year. I am always open to chat about math, physics, or even computer science! At SigmaCamp, you can usually find me at the Sigma Special Event, workshops, or the evening clubs. Alternatively, you might find me at the dance classes or facing off in chess or ping-pong. I try to find time to play guitar, so if you want to jam together, let me know!
My research has been all over the place. I have worked on a project involving partial differential equations, written several papers in knot theory, worked on the geometric transportation problem, and spent a summer working with ATLAS and at CERN. Currently, I am dabbling in entrepreneurship and launching a startup with an incubator program named the Next 36.
Alex Frenkel
Undergraduate, UC Berkeley
This will be my fourth year as a counselor at Sigma Camp. I am graduating from UC Berkeley as a physics major this May (2019), and I will be pursuing a Ph.D. in theoretical physics at Stanford University as an NSF Fellow afterwards. My current research is in the realm of quantum gravity, and for my graduate work I will be studying both high energy and condensed matter theory. My other academic interests include math, computer science, political science, and history.
I play a lot of tennis, some chess, and enjoy following both tennis and other professional sports.
 Natasha Butkevich 
Cornell University Alumna
I am delighted to return to Sigma for my fourth year on the SigmaStaff, and sixth year overall. My academic interests include microbiology and infectious disease (mainly bacteria, although I am fascinated by parasites and other minuscule creatures), marine science, immunology, and printmaking. In my free time, I enjoy making detailed drawings, watercolor paintings, and/or three-dimensional, geometric structures out of paper using unnecessarily complicated printmaking processes. Recently, I've picked up ballroom dancing (after 12 years of ballet); I lead Latin/Rhythm and follow Standard. I'm excited to meet everyone online at SigmaCamp this year!
Zofii Kaczmarek
Research Associate, Beyond Meat
Hi! This will be my fifth year as a counselor at Sigma, and it will certainly be a unique one. I'm looking forward to exploring the challenge of running an online camp, as well as the possibilities and creativity that these new constraints inspire.
I'm currently working at Beyond Meat, in their R&D/Innovation department. I didn't expect to work on food company, given that my background is in microbiology and physics, but it's exciting to be working on plant-based meat and at a company that prioritizes sustainability.
Outside of work, I spend my time social dancing and playing games, and I organize a monthly contra dance. Of course, those have been mostly put on hold during the pandemic, but I look forward to the days when our communities can come together in person again.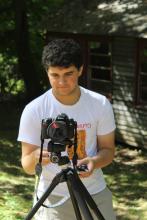 Lev Bershadsky
Undergraduate, Harvard College 
Lev goes to Harvard College and is a member of Harvard Undergraduate Robotics team. He has attended Sigma camp as a camper 3 times and was counselor last year. Lev was a member of National Honor Society, and he participated in Quiz Bowl, math teams, and Science Olympiad. Other than STEM, Lev enjoys tennis, sailing, and kendo. During his time at Sigma he ran a workshop that taught people how to fly quadcopters and build rocket engines. Lev was teacher's assistant at School Nova where he assisted a 7th grade math class. In his spare time Lev likes to build multirotors and destroy the patriarchy.
Sophia Abanov
Undergraduate, The University of Chicago
I have been coming to Sigma since the very first year, and I'm excited to be back for my fourth year as a counselor. I am a math major at UChicago and I've also taken several classes in physics, computer science and economics. In my free time, I like staying active and though I'm not particularly great at any sport, I've dabbled in quite a few like soccer, volleyball, gymnastics, and cheerleading. One of my favorite things at Sigma are workshops. I enjoy teaching them and attending those done by other counselors because everyone at Sigma is really really cool and has amazing things to share. One workshop I have taught in the past is about the geometry that can be found within the card game SET.
Jacob Kudria
Undergraduate, Stony Brook University
Hi! I just finished my sophomore year at Stony Brook University: I'm a pre-med student pursuing a major in applied mathematics and statistics, with minors in chemistry and biology. This will be my 8th year with Sigma, and 5th as a counselor. As you can probably tell by the mouthful above, I'm curious about everything and can't seem to settle on one subject - ultimately I chose to major in math, although I do still want to go into medicine. Outside of academics you can find usually find me reading anything I can get my hands on (fiction and nonfiction), or else finding new music to explore. I'm excited to meet new faces and reconnect with the old, so lets make the most of virtual Sigma!
Priya Srikumar
Undergraduate, Cornell University
This will be my fourth year as a Counselor at Sigma, and I couldn't be more excited to meet all of you! I study computer science, and I'm particularly interested in robotics, programming languages, and algorithm development. I speak Tamil, French, Korean, and a little Russian (though I'm still learning!). I'm an avid reader of both fiction and nonfiction; come talk to me for book recommendations! I also practice several combat sports, including boxing, wrestling, and Muay Thai. I enjoy debating (I am on my school's team), and greatly enjoy stimulating discussion. More than anything, though, I treasure getting to know you as a camper and connecting with you about your own interests and experiences. I can't wait to see you at Sigma!
Nestor Tkachenko
Undergraduate, Harvard College
Hello, I'm Nestor and I'm very excited to return to sigma camp as a counselor again! I love doing new things, exploring possibilities nobody has ventured through and creating what has never been thought of. I hope to share my love of creativity and innovation with all of you and help you discover your passions.
I am personally very interested in physics and technology as well as entrepreneurship. I do everything from building robots and creating levitating vehicles, to shocking people to make them dance. I'm currently working on creating an electric scooter sharing service in Cambridge for college students.
I also love meeting new people and enjoy understanding how others think, and always appreciate interesting discussions on any topic, from questions of morality to cultural trends, so feel free to talk to me about anything!
Alexander Suponya
High school student  
Hello there! I've only been a Sigma camper for two years, but I've come to love this place a lot and, as an incoming JC, I will do my best to help you love it too. I am passionate about earth science, physics, and engineering, but also love engaging in linguistics and worldbuilding as a hobby. I play the piano and guitar, and if you ever need someone to sing with, I'll do my best to find my time to help you out. I look forward to a great week of building, experimenting, problem solving and new friendships with all of you this summer!
Luigia Than
Undergraduate, Stony Brook University
Hello! I'm excited to be back for my fourth year as a counselor! I am a rising junior at Stony Brook University, studying electrical engineering with a minor in digital arts. In addition to digital art (mostly pixel art/animation), I like to read, sew, and craft (I've run workshops on origami and kumihimo, a kind of cord braid: if that sounds cool ask me to teach you!). I enjoy board games and card games and am always up for learning new ones. I'm excited to get to know all of you this summer!
Rajat Kumar
Graduate Student, Stony Brook University
I am a graduate student seeking a PhD. in Biomedical Engineering. I obtained my undergraduate degree in Instrumentation and Control Engineering in India. Thereafter, I worked in the Oil and Gas industry for about a year before coming to graduate school. I am currently working on computational modeling and experimental validation of prefrontal-limbic and reward control circuits in the human brain, in the context of psychiatric disorders and addiction. Aside from academics, I spend my time on table-tennis, piano or cooking.
Michael Zorya
Undegraduate, Rutgers New Brunsiwck
Hi my name is Michael Zorya, I have been with Sigma ever the since the start and I plan to return once more as a counselor. I have been admitted to Rutgers School of Arts and Sciences for a Biomathematics major. My other passions include strategy games of any type, and the occasional tv show. If you ever want to chat about any random subject, I'll be there to entertain. I can't wait to to see you all in the summer!
Polina Zavyalova
Graduate, University of Toronto
This is my first year at SigmaCamp and I am very excited to meet and get to know everyone! I recently completed my undergraduate degree in physics, and I am beginning a PhD in Electrical Engineering in September. My research so far has been in the fields of computational astrophysics and astronomical instrumentation, and my graduate work will be in the field of astrophotonics. I am also interested in biology and chemistry and I am looking forward to discussing everyone's science-related (and otherwise!) interests and ideas. Outside academics, I play tennis, dance, read, and really enjoy photography and creative writing.
Tarika Mane
Undergraduate, University of Chicago   Hi I'm Tarika and this will be my third year as a Sigma Counselor! I love math, especially anything involving geometry, number theory, or probability, and I'm now majoring in math. I particularly enjoy creating (and solving) hard math problems/puzzles too. I'm very fond of engineering and ever since I was little I loved building and creating things because I always have crazy ideas and I'd love to hear all of your ideas too! I also really like physics and will potentially major in it on top of math. At Sigma, I really enjoy playing games, whether it's a math game like set, or board games like catan, or games such as mafia! I'm looking forward to meeting all of you and hearing about your interests!
Iris Brook
High School Senior
I have been a camper at Sigma for the past four years and this year I am so excited to be a JC! Every year Sigma is one of my favorite parts of the summer and I can't wait to help make it an unforgettable week for every camper this year. I am interested in math, engineering, and computer science. I also love to draw, read, and dance. I can't wait to see you all this summer!
Sofiya Filippova
Undergraduate, Boston University
Hello everyone! I have attended SigmaCamp as a camper for the past three years and am very excited to return to Sigma this year as a JC! My academic interests are physics, mathematics, and engineering (generally any problem solving), but I like to dabble in computer science as well. I am a competitive figure skater, and have recently taken up ballroom dancing; I also love to play the piano, read, draw landscapes, and create with my hands. I look forward to SigmaCamp every year and cannot wait to help make this an unforgettable week for all the incoming campers, as my counselors once did for me.
Phoebe Hartch
High School Senior
Hello everybody! After 5 great years of experiencing SigmaCamp as a camper, I'm ecstatic to be coming back as a JC for the first time this year. Some facts about me: My favorite number is Phi and my favorite color is ultraviolet. My interests include mathematics (especially visual problems in geometry and calculus), chemistry, and biology. I also like reading, origami, gardening, debating, and just learning and sharing interesting facts with everyone. I can't wait to spend time with all of you this summer!