Counselors 2019

Anar Amgalan
Graduate student, Stony Brook University
I am a student of physics seeking a PhD, who exhibits an unhealthy obsession with striking combat sports. Normally, I get interested with everything involving computations OR probabilities OR complexities OR clever approximations. But on certain occasions, all I can think of is boxing gym and taekwondo dojang. The two, clearly, need to be reconciled. In rare moments of extreme boredom, I work on pieces of codes that solve game of sudoku or jigsaw puzzles, or play flash games for me in my absence.
I am currently occupied with figuring out i) how and when new biological species emerge, ii) what machines can learn about our brain and iii) how social networks self-organize, getting all the while amazed by Muhammad Ali's footwork and Roy Jones Jr.'s reflexes. Depending on the volume of interest, I consider hailing into Sigma with my heavy bag...
Daniil Lukin
Graduate student, Stanford University
My PhD work is related to making nanoscale optical structures and manipulating quantum states of individuals atoms, with the goal of contributing to the world-wide effort on making optical quantum computers. When I go to Sigma, I like to bring with me various tech contraptions so we can take them apart. This year, we will breaking into a turbo-molecular vacuum pump. I also participate in teaching dance, teach physics-related workshops, and play classical guitar.
Andrey Lukin
Undergraduate, Georgia Institute of Technology
I have come to Sigma Camp as a student since the very beginning, and have felt how fun and interesting this camp truly is. I love to discuss and hypothesis different crazy ideas, something like constructing a large scale Stirling engine that would run from the equator and down to Antarctica, thus producing the much needed energy for the human race. I would love to listen to other people's amazing ideas, even if they are as unrealistic as mine. I am currently pursuing my Bachelor degree in Computer Science at Georgia Institute of Technology. Outside of my studies, I love playing music, running, and sometime rock climbing!
Andrey Khesin
Graduate student, MIT
I have been at SigmaCamp since the very beginning. I will be starting my PhD in Math at MIT this year. I am always open to chat about math, physics, or even computer science! At SigmaCamp, you can usually find me at the Sigma Special Event, workshops, or the evening clubs. Alternatively, you might find me at the dance classes or facing off in chess or ping-pong. I try to find time to play guitar, so if you want to jam together, let me know!
My research has been all over the place. I have worked on a project involving partial differential equations, written several papers in knot theory, worked on the geometric transportation problem, and spent a summer working with ATLAS and at CERN. Currently, I am dabbling in entrepreneurship and launching a startup with an incubator program named the Next 36.
Alex Frenkel
Undergraduate, UC Berkeley
This will be my fourth year as a counselor at Sigma Camp. I am graduating from UC Berkeley as a physics major this May (2019), and I will be pursuing a Ph.D. in theoretical physics at Stanford University as an NSF Fellow afterwards. My current research is in the realm of quantum gravity, and for my graduate work I will be studying both high energy and condensed matter theory. My other academic interests include math, computer science, political science, and history.
I play a lot of tennis, some chess, and enjoy following both tennis and other professional sports.

Ryan Cimmino
Undergraduate, Harvard College
Hi everyone! I'm a rising junior studying physics and math, and I'm super excited to be joining Sigma as a counselor this year. I especially enjoy hiking and camping, and I'm a big fan of classic literature and history (especially ancient Rome). I'm currently involved with quantum optics research. I look forward to meeting everyone and sharing my passion for science at Sigma this year!
Alexander Suponya
High School Student
Hello there! I've only been a Sigma camper for two years, but I've come to love this place a lot and, as an incoming JC, I will do my best to help you love it too. I am passionate about earth science, physics, and engineering, but also love engaging in linguistics and worldbuilding as a hobby. I play the piano and guitar, and if you ever need someone to sing with, I'll do my best to find my time to help you out. I look forward to a great week of building, experimenting, problem solving and new friendships with all of you this summer!
Alec Douglas
Undergraduate, Harvard College
I've been a member of SigmaCamp since 2013, both as a camper and as a counselor. I am a physics and math major but I'm also interested in history, the occasional video game, philosophy and religion. I currently do research in quantum optics where I design and implement control sequences for many body systems. I'm looking forward to meeting all of you and talking about your interests, both scientific and otherwise.
Phillip Kadaev
Undergraduate, Harvard College
I have been a part of SigmaCamp since 2012 as both a camper and as a counselor and I look forward to yet another great year. My main interests include biochemistry and astronomy. I am particularly interested in the study of exoplanets and currently research the effects of several different chemical agents on the regeneration of the recurrent laryngeal nerve. I am also an avid coin and stamp collector, who specializes in Russian and American currency and postage. I also enjoy playing an array of different sports including soccer, basketball, and ice hockey.
 Natasha Butkevich 
Undergraduate, Cornell University 
I am delighted to return to Sigma for my third year on the SigmaStaff, and fifth year overall. My academic interests include microbiology and infectious disease (mainly bacteria, although I am fascinated by parasites and other miniscule creatures), marine science, immunology and printmaking. I spent my summer in Ithaca studying the bacterial composition of biofilms formed in nitrogen bioreactors. In my free time, I enjoy making detailed drawings or three-dimensional, geometric structures out of paper using unnecessarily complicated printmaking processes. Recently, I've picked up ballroom dancing (after 12 years of ballet); I lead Latin/Rhythm and follow Standard/Smooth. I'm excited to meet everyone at SigmaCamp this year!
Zofii Kaczmarek
Research Assistant, California Institute of Technology
I'm looking forward to return for my fourth year as a counselor at Sigma!
I recently graduated from undergrad with a degree in physics, and now I'm studying the biophysics of genetic regulation in E. coli. My project involves using a statistical model and small number of parameters to describe gene expression across a broad range of growth conditions. That's a packed sentence, so come find me to chat about what that all means. Whatever you think you know about physics or biology, let's talk about why I find them both so interesting and they ways they can work together!
I teach math and physics workshops and help teach west coast swing lessons. I also enjoy playing around with a frisbee or soccer ball, making food, taking photos, and talking about how we can improve the world and challenge our assumptions.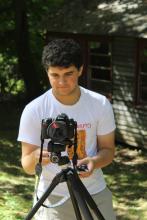 Lev Bershadsky
Undergraduate, Harvard College 
Lev goes to Harvard College and is a member of Harvard Undergraduate Robotics team. He has attended Sigma camp as a camper 3 times and was counselor last year. Lev was a member of National Honor Society, and he participated in Quiz Bowl, math teams, and Science Olympiad. Other than STEM, Lev enjoys tennis, sailing, and kendo. During his time at Sigma he ran a workshop that taught people how to fly quadcopters and build rocket engines. Lev was teacher's assistant at School Nova where he assisted a 7th grade math class. In his spare time Lev likes to build multirotors and destroy the patriarchy.
Sophia Abanov
Undergraduate, The University of Chicago
I have been coming to Sigma since the very first year, and I'm excited to be back for my fourth year as a counselor. I am a math major at UChicago and I've also taken several classes in physics, computer science and economics. In my free time, I like staying active and though I'm not particularly great at any sport, I've dabbled in quite a few like soccer, volleyball, gymnastics, and cheerleading. One of my favorite things at Sigma are workshops. I enjoy teaching them and attending those done by other counselors because everyone at Sigma is really really cool and has amazing things to share. One workshop I have taught in the past is about the geometry that can be found within the card game SET.
Jacob Kudria
Hi! I just finished my freshmen year at Stony Brook University, studying Applied Mathematics and Statistics on a pre-med track. This will be my 7th year at Sigma, and 4th as a counselor. As you can probably tell by my college studies, I'm curious about all the sciences - I chose to study math, but ultimately I want to go into medicine, and I love to talk about the intersection of the two. Otherwise you can find me frantically running around taking photos of everything, or otherwise reading (recommendations?) or playing the viola (NOT violin). I'm excited to meet new faces and reconnect with the old, so see you in August!
Nikita Podobedov
Undergraduate, Columbia University
I've been coming to Sigma since the beginning, and I'm really excited to be here for another year. I am a rising junior at Columbia University studying biomedical engineering and computer science. Outside of STEM, I'm interested in history, geography, and linguistics. I love trivia, and I play quiz bowl at my university. I also really enjoy playing racket sports, and I'm looking forward to organizing the ping pong tournament at Sigma again.
Michelle Roitgarts
Undergraduate, Tufts University
After 7 wonderful years at Sigma, I'm very excited to come back as a counselor for Sigma 2019! As a Cognitive Science major, I study the human mind and how one can understand cognitive processes through various frameworks including psychology, computer science, and linguistics. I am currently finishing my second year of university and plan to do research on child cognitive development starting this September. Some of my hobbies include tennis, ballroom dance, and film-making; I'm also an avid music fan, particularly jazz, electro-swing, and occasionally classic rock. In my spare time you might find me playing on the piano or guitar. I speak Russian and English; please feel free to talk to me about anything at all :) If you are interested in participating in the annual Sigma Music Concert, let me know at michelinka123@gmail.com. I can't wait to see all of you this summer!

Priya Srikumar
Undergraduate, Cornell University
This will be my fourth year as a Counselor at Sigma, and I couldn't be more excited to meet all of you! I study computer science, and I'm particularly interested in robotics, programming languages, and algorithm development. I speak Tamil, French, Korean, and a little Russian (though I'm still learning!). I'm an avid reader of both fiction and nonfiction; come talk to me for book recommendations! I also practice several combat sports, including boxing, wrestling, and Muay Thai. I enjoy debating (I am on my school's team), and greatly enjoy stimulating discussion. More than anything, though, I treasure getting to know you as a camper and connecting with you about your own interests and experiences. I can't wait to see you at Sigma!
Nestor Tkachenko
Undergraduate, Harvard College
Hello, I'm Nestor and I'm very excited to return to sigma camp as a counselor again! I love doing new things, exploring possibilities nobody has ventured through and creating what has never been thought of. I hope to share my love of creativity and innovation with all of you and help you discover your passions.
I am personally very interested in physics and technology as well as entrepreneurship. I do everything from building robots and creating levitating vehicles, to shocking people to make them dance. I'm currently working on creating an electric scooter sharing service in Cambridge for college students.
I also love meeting new people and enjoy understanding how others think, and always appreciate interesting discussions on any topic, from questions of morality to cultural trends, so feel free to talk to me about anything!
David Gikoshvili
Undergraduate, Middlebury College
I am pursuing a computer science and psychology double-major at Middlebury College. Many people often comment how different these two fields are or ask why I decided to study them. I love the challenge, and at the same time freedom, of solving computer-science problems just with a given set of principles. There are many ways to get the correct answer, and the way you choose to do it depends on your thought process and creativity. I also love human behavior, and I find it fascinating to understand why people behave the way they do. This will be my second year as a counselor at Sigma, and I love to see how campers strive to solve problems at the same time as they make new friendships.

Luigia Than
Undergraduate, Stony Brook University
Hello! This will be my third year as a counselor, and I'm super excited to be back! I'm currently a freshman at Stony Brook University, studying electrical engineering with a minor in computer science. In my spare time I like to read, sew, and play the piano. I also enjoy board/card games and crafts (I've run workshops on origami and kumihimo, a kind of cord braid: if that sounds cool ask me to teach you!) I'd love to hear about your interests, scientific or otherwise - please teach me something new! I'm excited to meet all of you this summer!
Masha Zorin
Undergraduate, University of Cambridge
I have been at Sigma Camp for several years as both a camper and a counselor, and I'm super excited to return as a counselor this year! I am currently studying computer science at the University of Cambridge, and in my spare time, I like to dance, take pictures, and cook. If you ever have something you want to talk about, you can come find me - I'll always be happy to listen. I'm looking forward to meeting everyone at Sigma Camp!
Rahul Sahay
UC Berkeley Undergraduate
Hello! My name is Rahul and this will be my first year as counselor for Sigma! I am currently a second year undergraduate at the University of California, Berkeley studying physics and pure mathematics. I am currently very interested in the novel quantum dynamics that are present in condensed matter and AMO systems and their implications for questions in quantum information theory.
Beyond academics, I quite enjoy playing the guitar in my free time, playing the game "Set", and participating in outreach events curated by Berkeley's society of physics students.
Rajat Kumar
Graduate Student, Stony Brook University
I am a graduate student seeking a PhD. in Biomedical Engineering. I obtained my undergraduate degree in Instrumentation and Control Engineering in India. Thereafter, I worked in the Oil and Gas industry for about a year before coming to graduate school. I am currently working on computational modeling and experimental validation of prefrontal-limbic and reward control circuits in the human brain, in the context of psychiatric disorders and addiction. Aside from academics, I spend my time on table-tennis, piano or cooking.
Michael Zorya
Rutgers New Brunsiwck Undergraduate
Hi my name is Michael Zorya, I have been with Sigma ever the since the start and I plan to return once more as a counselor. I have been admitted to Rutgers School of Arts and Sciences for a Biomathematics major. My other passions include strategy games of any type, and the occasional tv show. If you ever want to chat about any random subject, I'll be there to entertain. I can't wait to to see you all in the summer!


Alex Cartwright
Undergraduate, Champlain College
From learning languages to creating encryption algorithms, I find myself lost in fascination for many fields. Some of my hobbies and interests include entomology and taxonomy, guitar-playing, physics, computer programming, hacking, and tea-drinking. I love learning languages, being proficient in French, but still learning German and Russian. However, I am most passionate about computer science, cybersecurity, and engineering; I am currently majoring in Digital Forensics and Cybersecurity at Champlain College, and I loved my first year there so far! I can't wait to bring my experiences to SigmaCamp for my fifth year and share fun digital forensics workshops with anyone who is interested! I look forward to meeting everyone again at SigmaCamp 2019!
Tarika Mane
High School Senior
Hi I'm Tarika and I love being a counselor here at Sigma! I love math, especially anything involving geometry or any kind of math puzzle, and I'm now majoring in math. I particularly enjoy creating (and solving) hard math problems/puzzles too. I'm very fond of engineering and ever since I was little I loved building and creating things because I always have crazy ideas. On top of math and engineering, I love computer science, and I'm specifically interested in machine learning. I also love playing games, whether that be math games like set, or board games like catan, or games such as mafia! I'm looking forward to meeting all of you and making more unforgettable memories at Sigma this year!
Iris Brook
High School Senior
I have been a camper at Sigma for the past four years and this year I am so excited to be a JC! Every year Sigma is one of my favorite parts of the summer and I can't wait to help make it an unforgettable week for every camper this year. I am interested in math, engineering, and computer science. I also love to draw, read, and dance. I can't wait to see you all this summer!
Nikolai Styrkas
High School Senior
Hello everyone! I am very excited to be part of the staff this year after all my years at Sigma as a camper. Throughout high school I have developed many interests in chemistry, 3D design, architecture, and mathematics. I enjoy a multitude of hobbies including, tennis, piano, swimming, ballroom dancing and quite a few others that I am just trying out. I am looking forward to being a counselor again, and I am eager to see what Sigma will bring to the table this year.
Timo Stroschein
High School Senior
When I went to Sigma Camp for the first time I immediately fell in love with this place. It is truly amazing to see how many (long-time) friendships can develop while children get the chance to pursue their curiosity for science.
Throughout an exchange year in Costa Rica and my school in Germany I had the chance to develop a scientific interest, as well as a cultural one. My focus lies in mathematics and physics. Besides that I enjoy doing sports like gymnastics and I would love to teach you the benefits of walking on your hands rather than on your feet. I am looking very forward to spend this summer with you!

Boris Nekrasov
High School Senior
I've been a camper at Sigma for 5 years, and I cannot wait to continue my time here, if not as a camper, then as a junior counselor. I love computer science and I'm passionate about history (particularly the high medieval period). I'm a chess and ping pong enthusiast, and I'm an avid Othello player. I've always loved being part of Sigma camp, and I hope to be able to make this experience as enjoyable for you, as it was for me.

Sofiya Filippova
High School Junior
Hello everyone! I have attended SigmaCamp as a camper for the past three years and am very excited to return to Sigma this year as a JC! My academic interests are physics, mathematics, and engineering (generally any problem solving), but I like to dabble in computer science as well. I am a competitive figure skater, and have recently taken up ballroom dancing; I also love to play the piano, read, draw landscapes, and create with my hands. I look forward to SigmaCamp every year and cannot wait to help make this an unforgettable week for all the incoming campers, as my counselors once did for me.

Phoebe Hartch
High School Senior
Hello everybody! After 5 great years of experiencing SigmaCamp as a camper, I'm ecstatic to be coming back as a JC for the first time this year. Some facts about me: My favorite number is Phi and my favorite color is ultraviolet. My interests include mathematics (especially visual problems in geometry and calculus), chemistry, and biology. I also like reading, origami, gardening, debating, and just learning and sharing interesting facts with everyone. I can't wait to spend time with all of you this summer!

David Bershadsky
Senior, Trinity School
David goes to Trinity School and is the captain of the Robotics team. David has attended Sigma camp as a camper seven times. David is a member of Trinity's Science Olympiad and Rocketry Team. During his time at Sigma he ran a workshop that taught people how to fly quadcopters. David likes to build multi-rotors, planes, 3d printers, and robots.


Polina Zavyalova
Graduate, University of Toronto
This is my first year at SigmaCamp and I am very excited to meet and get to know everyone! I recently completed my undergraduate degree in physics, and I am beginning a PhD in Electrical Engineering in September. My research so far has been in the fields of computational astrophysics and astronomical instrumentation, and my graduate work will be in the field of astrophotonics. I am also interested in biology and chemistry and I am looking forward to discussing everyone's science-related (and otherwise!) interests and ideas. Outside academics, I play tennis, dance, read, and really enjoy photography and creative writing.