SigmaCounselors 2015
The good thing about SigmaCounselors is that every camper gets two - to keep! Well, at least for the duration of camp. With your team of 10 campers and two counselors, you will be living in the same cabin, participating in tournaments, sharing evening stories, cookies, and milk - soon to feel like a family. The counselors' main job is to ensure the happiness and safety of all campers - with any questions or concerns, you can approach any of us, at any time (including in the middle of the night, but it better not be a prank!) We also run workshops, attend lectures, assist teaching staff at semilabs, and prepare all those fun, secret events which we wont tell you about. JCs are the alumni of SigmaCamp who decided to stay with us and to spend their next summer as counselors in training.
We are all very excited to meet you!
   
Alex Treyer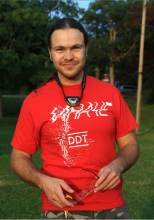 Graduate Student, Albert Einstein College of Medicine
 I am a PhD candidate in cell biology. Personally, I am still struggling with this notion, hence my ongoing interests in music and musical instruments, stargazing, spending time outdoors, and coming to SigmaCamp to relax from my studies. I am very hopeful to meet the new guys and girls and recognize the "old familiar" faces, to see the great soccer-chess biathlon happen again, and to sit by the fire at night (maybe Mark will make it colorful again). If you like playing soccer (or want to start) and happen to have a pair of turf shoes (not cleats!) – bring 'em, but don't worry if you don't – last year we would mostly play barefoot anyway.

Tomasz Bakowski
Graduate student, Stony Brook Univeristy
I'm a PhD student in Biomedical Engineering with a wide range of interests spanning science, technology, and politics. I'm excited to move beyond the bench very soon (hopefully will be Dr. Bakowski come August) and applying my scientific knowledge and creativity to problems related to public policy, science policy, and consulting. During my PhD, I've worked on a variety of projects, but primarily have focused on better understanding the physics of DNA  under confinement on the nanometer-scale. I've learned a lot about nanotechnology, polymer physics, and varied microscopy/spectroscopy techniques in the process. I also have an undergraduate background in physics. Apart from research, I like tinkering with electronics and my motorcycle, playing video games, traveling the world, scuba diving, and eating lots of chocolate. Really excited to participate as part of Sigma Camp this summer!
Anar Amgalan
Graduate student, Stony Brook Univeristy
I am a student of physics seeking a PhD, who exhibits an unhealthy obsession with striking combat sports. Normally, I get interested with everything involving computations OR probabilities OR complexities OR clever approximations. But on certain occasions, all I can think of is boxing gym and taekwondo dojang. The two, clearly, need to be reconciled. In rare moments of extreme boredom, I work on pieces of codes that solve game of sudoku or jigsaw puzzles, or play flash games for me in my absence.
I am currently occupied with figuring out i) how and when new biological species emerge, ii) what machines can learn about our brain and iii) how social networks self-organize, getting all the while amazed by Muhammad Ali's footwork and Roy Jones Jr.'s reflexes. Depending on the volume of interest, I consider hailing into Sigma with my heavy bag...
Danya Lukin
Undergraduate, California Institute of Technology
I study Applied Physics at Caltech, and like to apply it in my spare time. Last summer, I built a 400 Watt power amplifier (to play loud music), but it caught on fire half way through "The Ride of the Valkyries". I brought the remains to SigmaCamp: If you were at Sigma last year, you hay have seen nail-melting experiment that the amplifier project turned into. Maybe this summer we'll try to use electricity to melt a crowbar.
The best part of SigmaCamp is that everyone -- faculty, counselors, and campers, learn something new, try something they haven't done before, and meet awesome people... and if you don't, you're doing something wrong. Juggling was very popular at Sigma 2014, so I dedicated my on-duty nights to learning it, and will be practicing more this summer.
Jenny Nitishinskaya
Undergraduate, Harvard College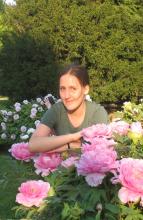 I really like math, but I can get excited about pretty much anything! My favorite class this year, for example, was organic chemistry. I love a good problem, both science-related and not. I have an arbitrarily large number of puzzles I can pull out, so feel free to ask me for one, or show me one! I like board and card games, too, and cooking and photography (none of which I'm very good at, actually, but I still love them!).
Josh Lam
Undergraduate, Cambridge University, UK
My main interests lie in Maths and Physics, but I also enjoy learning and understanding science and so on. If there's something that you find interesting and want somebody to talk to, be it science related or not, then I would be more than happy to oblige. My hobbies include playing and watching sports, cycling, cooking (very badly), playing all sorts of board games and singing (mainly in the shower). This will be my first SigmaCamp, and I am very much looking forward to meeting you all.
Jacob Hobbie
Undergraduate, Middlebury College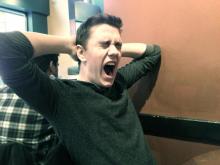 My name is Jacob Hobbie and I'm from Plainview, New York on Long Island. When I was younger, I lived abroad just outside of Paris for a year. Currently, I'm a rising senior at Middlebury College in Vermont studying physics and computer science where I work as both a physics and writing center teaching assistant. Next year I'll be writing a senior thesis on applications of parallel programming in physics. In my spare time I like to play ultimate Frisbee, play guitar, read, and explore the countryside of Vermont. This summer, in addition to working at SigmaCamp, I'm coding the mobile app for a university.
Shmoo Kfia
Undergraduate, Stony Brook University
This year's SigmaCamp will be my first. Although my primary interests are mathematics, philosophy and neuroscience, please feel free to engage me on any subject matter; I am curious about most things. If you would like to play chamber music, please let me know – I intend to bring my cello, so write me at shmuel.kfia@stonybrook.edu if interested(Brahms is preferred, but I'm willing to negotiate). See you this summer!
Cristina Mata
Undergraduate, Massachusetts Institute of Technology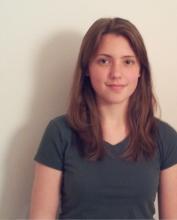 I am interested mainly in electrical engineering and math, but I also like learning about all the sciences. This will be my third year as a SigmaCounselor! You can find me running, walking and thinking outside, and I won't say no to a good book or movie (think Lord Jim and Badlands). Music is a big part of my life, I love playing the violin and have recently taken up guitar. I listen to basically all genres of music, except movie scores. If you want to see something interesting take a look at my ipod. I'll also look into anything you recommend.
Angie Shtenger
Undergraduate, Stony Brook University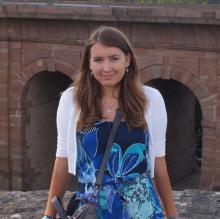 Math is my absolute favorite subject in school, but it is not the only one, as I love history and science as well. I spend most of my freetime reading, whether it's a mystery or a romance, or just about anything else! I can always suggest a really good book to read, something that can capture anyone's attention! Traveling and photography are some of my other interests, and one day I hope to see the entire world. Feel free to talk to me about anything, I have a variety of interests, including music as well!
Steve Castano
 Undergraduate, Yale University
The past is a tumultuous concept that is constantly being re-written and revised, as new stories are uncovered. I think that's why I'm drawn to the study of history, as a sophomore at Yale University.  In my free time, I'm an epée fencer–in-training and an avid Ping-Pong player, if anyone wants to try their luck. I also enjoy listening to Drake, The Weeknd, or Jhene Aiko while trying to write new poems for spoken word performances.  I'm excited to come back and see how the camp has grown after being away for a few years. 
David Roberts
Undergraduate, Harvard College
I'm a junior at Harvard, studying mathematics and physics. My intellectual passion lies in uncovering the underlying mathematical structure of physical theories. I'm currently pursuing an understanding of topological phases of matter, and other technological applications of hardcore math. I play pick-up basketball every day, and am a die hard Bach fan (Vivaldi's cool too). I'm also a violinist in the baroque chamber orchestra on campus. I can't wait to meet everyone at SigmaCamp. Let's talk!
Jenny Kaufmann 
Undergraduate, Princeton University  
I'm a math major from eastern Pennsylvania. I am excited to have the opportunity to be a counselor at Sigma, because teaching enthusiastic students is one of my favorite things to do. Currently, my favorite mathematical subjects are graph theory and number theory, but I love math and science of all sorts. In my free time, I enjoy poetry, dancing, puzzle-solving, and playing D&D-style role-playing games. I also love to read, and am always happy to give book recommendations (and receive them)​. I'm looking forward to meeting you this summer!​​ 
Berk Ozdalyan 
Undergraduate at California Intitute of Technology  
I love life. I love it even more when I'm around interesting people doing interesting things. As a hardware and embedded systems enthusiast, I'm currently working on building my own oscilloscope! If I'm not busy meeting new people, telling interesting stories, composing or singing, I like to explore the world. It feels good to take a breath at the top of San Gabriels or enjoy a sip of coffee by Redang Bay. If you're down to do anything interesting, we're on the same boat. Fun fact : Throughout my high school years, I crossed continents twice per work day. Hit me up at bozdalya@caltech.edu. I won't bite, I promise.

Natasha Zaliznyak 
Undergraduate, Yale Unversity
After spending two years as a camper and then one year as a junior counselor at SigmaCamp, I'm excited to come back this summer as a full counselor. Like many of my fellow Sigma staff members, I love science and am always curious about how things work. The fields I am most interested in are chemistry and biology, as I am fascinated by the molecular mechanisms of life -- I am entering college in the fall as a prospective Molecular Biophysics and Biochemistry major. My hobbies include cooking, baking (I'll likely be running a workshop at Sigma about the science of baking chocolate chip cookies!), and different forms of art; I love drawing and painting, as well as both digital and film photography. I also enjoy traveling and learning new languages. I'm looking forward to seeing all of you this summer!
Andrey Khesin
Undergraduate, University of Toronto
I love physics and math. I am also a avid guitar player and programmer. I speak Russian, English, and French. In the fall I will be enrolling as a physics major/math specialist at the University of Toronto. I have been at SigmaCamp since its inception in 2012. Speaking of "Inception", it is my favourite film. (Along with "Forrest Gump" .) You nay find me helping out with the academic program (including SigmaSurprise) or just napping. In the evening I will be running Mafia games for 10. Come and play! Lastly, if my spelling has not yet given it away, I live in Canadia.
Alex Frenkel
Undergraduate at UC Berkeley
This will be my first year at Sigma Camp. My primary interests are in physics, although I'm also heavily interested in mathematics and computer science, history, and politics. I am a very approachable individual, and am easy to locate due to my height and inclination towards bright neon colors. I will be attending UC Berkeley next year for undergrad.
Natasha Butkevich (JC)
Junior at Ward Melville HS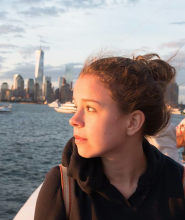 I have spent two summers as a camper at Sigma, and I am very excited to come back as a JC. I love biology, especially cell biology, and genetic engineering. Quorum sensing in bacteria, the way bacteria communicate, is a topic that fascinates me. I like medical bioengineering as well, and medical studies in general. I'd love to talk about how amazing the human body is. I am also an avid artist; more often than not you will find me doodling on spare paper, or drawing in my sketchbook. I sometimes dabble in the digital art world by messing around with my camera, Photoshop, and Lightroom. I also love reading, especially the fantasy genre (think the Bartimaeus trilogy, the Inkspell trilogy, and of course Harry Potter).
Gabe Gang (JC)
Junior at Ward Melville HS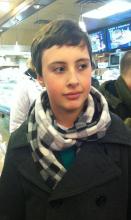 I have been at Sigma Camp as for three years as a camper and I have always loved every moment! I am so excited to join this year as a Junior Counselor. I am interested in biochemistry and medicine as an outlet to understand diseases  and the methods to manipulate them. I am also quite interested in socio-anthropology and understanding human culture's connection with their environments. When I have some free time, I like to read, review movies (contact me to discuss!!), listen to all sorts of music, and play guitar! I also love to travel, learn and meet all sorts of people. I am always up for a discussion, so don't ever hesitate to ask me a question or tell me a joke or even talk about some problem that you may have (cause I'm all ears). I can't wait to join the Sigma team this year as a junior counselor!
Ilya Yurchenko (JC)
Junior at Syosset HS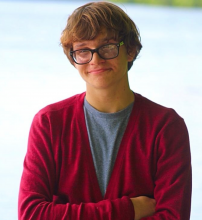 I have attended Sigma Camp as a camper and the Director of Chess for all of its 3 years, successfully running the Chess Tournament every year. Academically, my interests center around Mathematics and Physics. I am currently conducting mathematical research at Stony Brook University with Alexander Abanov (a member of the Sigma Faculty). Around Sigma, you can find me doing the things I love to do most: playing soccer and making music. I am on the varsity soccer team for my school and have sung, arranged and composed music for both the piano and the acapella group that I am a part of. I look forward to meeting some of you on the soccer field, others on the chess board, and all of you at Sigma Camp 2015.
Phillip Kadaev (JC)
Junior at Bronx High School of Science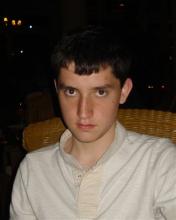 I have attended Sigma Camp for the past three years and am eager to continue my Sigma experience as a junior counselor. My main interests include biochemistry and astronomy. I am particularly interested in the study of exoplanets and currently research the effects of several different chemical agents on the regeneration of the recurrent laryngeal nerve. I am also an avid coin and stamp collector, who specializes in Russian and American currency and postage. I also enjoy playing an array of different sports including soccer, basketball, and ice hockey.