SigmaCamp 2022: overview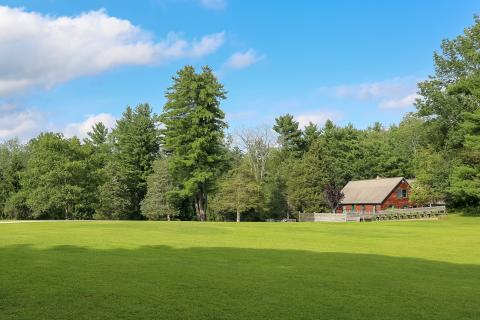 SigmaCamp is a residential science summer program for students aged 12-16. SigmaCamp 2022 will take place on Aug 14-21, 2022. This year, we are returning to Silver Lake Camp and Conference Center, Sharon, Connecticut - in-person!
At SigmaCamp, students spend a week with other talented campers, who were interested in learning about the exciting puzzles and mysteries of the world around you. They are guided by college students and graduate students from top US universities and taught by leading professors and scientists from Stony Brook University, Brookhaven National Lab, Yale, Stanford, and MIT. The days are filled with discussions of the most exciting topics in contemporary science; hands-on experiments; debates; and educational games.
Healthcare and safety
SigmaCamp staff-to-camper ratio is 1:2, and students are supervised 24 hours a day by either our academic staff or counselors.  Certified lifeguards will supervise all swimming sessions. A registered nurse is available on site during our entire stay.
All participants, campers and staff alike, are required to be fully vaccinated against COVID19. Additional COVID-related policies will be posted shortly.
Accommodation
Our students will be housed in comfortable lodge buildings with cozy sleeping and living rooms. Each of these rooms (there are about 4 per building) can house 10-12 campers, and each building is complete with multiple restrooms and showers.
Lectures, semilabs, workshops, and other activities will be held at various buildings and halls also located on the camp grounds. The extensive outdoor area of the camp means there will be no shortage of room for experiments, workshops, and fun activities you cannot do inside (like glass blowing). The camp grounds are complete with sports fields, campfire pits, and a lifeguard-supervised swimming area.
Our Faculty and Counselors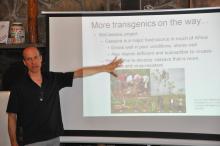 Our Faculty consists of math and science professionals, most of whom hold professor or other academic positions at Stony Brook University, Brookhaven National Lab, and a number of other universities and research centers in the North East.
Our counselors come from a range of younger scientific and teaching experts-to-be that spans high school, college, as well as graduate-level students who come to volunteer at Sigma Camp from as close as New York and as far as Cambridge, UK.
Meet our faculty! | Meet our counselors!
Our Students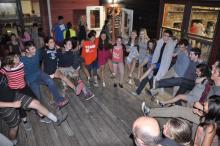 SigmaStudents come from many US states (last year - 15), Canada, Mexico and Europe.
Upon arrival to SigmaCamp, every camper is assigned to a team of about 10 campers and two or three counselors. Campers and counselors spend lots of time together as a team, and by the end of the season become like a family. Each team competes in the SigmaTournament together and participates in team activities. By the end of the season, anyone will tell you that their team is, clearly, the best in SigmaCamp.

In Sigma Camp, the campers will be divided into ten teams that will sleep together, have their own group of counselors, lead morning exercises and dining hall clean-ups on assigned days, and spend time together before going to sleep. The teams in SigmaCamp always represented by a Greek letter. Though the team life is important, the individual camper itineraries will be independent from their team activities, and each camper will be able to choose their own lectures, semi-labs, workshops, clubs, and how to spend their free time. 
Academic program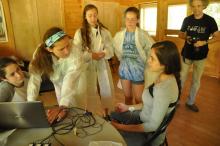 The Academic program in SigmaCamp is its most involved feature and backbone! Each part of the program spans several disciplines and includes Math and all sciences like Biology, Chemistry, Physics and Computer Science.
Starting with the Lecture in the morning followed by two different Semilabs in the afternoon and a variety of workshops in the evening, your day will be filled with a lot of new knowledge and discovery. If you feel that you might also have something to share, you are welcome to apply to our Junior Instructor Challenge or Experiment of the Day programs. Read more about academics at Sigma here.
Other activities
Does Sigma have something other then math and science classes? Of course it does! What summer camp could be complete without some outdoor fun? We have a variety of sports you can play like soccer, volleyball, ping pong and chess. Yoga classes and swimming in the lake are also an option. You can experience the art of tree climbing, which will be carefully supervised by certified rope instructors. If you don't like sports – you can paint, play music or practice your acting skills. In the evenings, you have a choice of several evening clubs that range from geography trivia games to poetry readings.
Food
Fresh on-grounds-baked cookies? Check. Complete breakfast, lunch, and dinner, all with options for personal preference including vegetarian and gluten-free? Check. Have allergies or dietary needs and would like to speak to the chef directly so you can work out a menu? You get it. The kitchen at Silver Lake center is both kind and professional, and provides not only the proper macronutrient content to the campers, but also the responsiveness and care that make potential difficulties of feeding any of the hundred plus mouths that belong to Sigma Camp a non-problem. In addition, at  Silver Lake dining hall food served in a family style where the campers take care of setting up, bringing and taking away dishes, and cleaning afterwards is encouraged for all campers. Surprisingly or not - it works!
Tuition
Program cost is $1,650 for 8 days/7 nights. There are sibling discounts ( 20% for second child and 35% for the third child ). We also offer need-based financial aid, and encourage applications for need-based aid. If you have a question about tuition, please email us at info@sigmacamp.org.
Application details
SigmaCamp2022 is now over. The application for SigmaCamp 2023 will be posted sometime in early 2023. Check back then for more information!
Contact us:
E-mail: info@sigmacamp.org