Counselors 2022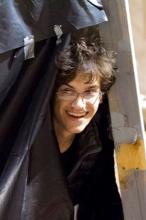 Daniil Lukin
Postdoctoral fellow, Stanford University
My PhD work was related to making nanoscale optical structures and manipulating quantum states of individuals atoms, with the goal of contributing to the world-wide effort on making optical quantum computers -- I'm continuing along the same lines now as postdoc. When I go to Sigma, I like to bring with me various tech contraptions so we can take them apart. This year, we will breaking into a turbo-molecular vacuum pump. I also participate in teaching dance, teach physics-related workshops, and play classical guitar.
Max Strey
Undergraduate Student, Cooper Union 
Hello! I have been at Sigma Camp since 2014 as a camper. I just finished my first year of college at Cooper Union in New York. I am majoring in electrical engineering with a minor in computer science. My passions include physics, robotics, and history. I love outdoor sports such as soccer, tennis, and hiking, but I also love ping-pong and rock climbing. I am very excited to be a part of the camp this year and am eager to meet you all!
Gleb Aminov
Graduate student, Stony Brook University 
This is going to be my first year of SigmaCamp and I'm very excited to join this wonderful community! I'm studying theoretical physics at YITP in Stony Brook. My current research interests are mathematical physics, phenomenological string theory and a bit of black-hole perturbation theory. I practice a very hands-on approach and like to use programming as a way to tackle some hard mathematical problems. In my spare time I like to stay active (strength training, BJJ) and sometimes cooking. I did play some musical instruments in the past, including cello and drums (hopefully I will do it again in the future).
Sanjana Rao
Undergraduate student, University of Chicago 
Hi! This is my first year at Sigma, and I'm super excited to meet you all! I'm a rising senior studying biology and neuroscience at the University of Chicago. I do research in tissue engineering and cancer research labs, and I also love photography and history (especially ancient civilizations and mythology)!
Tim Pinkhassik
Undergraduate Student, University of California, Berkeley 
I've been coming to Sigma Camp since 2016. I really enjoy chemistry, and I am also interested in electrical engineering. My undergraduate research is in organometallic chemistry, particularly in the chemistry of iridium catalysis. In my free time, I play piano, guitar, and balalaika. I also enjoy cooking. I can't wait to meet everyone this year!